Event Detail
Back to Events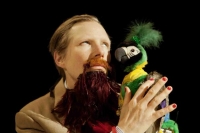 Art :: Theatre also Art :: Dance
Abecedarium Bestiarium
8:00 PM
LA CHAPELLE, Scènes contemporaines
Description:

Queer Performance Camp aims to create new ways to connect, grow and build community, while supporting the development of queer artists through a program of shows, workshops, and gatherings. It is collaboratively presented by Studio 303, MAI (Montréal, arts interculturels) and La Chapelle Scènes Contemporaines. On the agenda: two shows, four workshops for artists and several gatherings! For details see QueerPerformanceCamp.org.
La Chapelle Scenes Contemporaines is pleased to welcome the Berlin-based multidisciplinary artist (choreographer, performer, filmmaker and visual artist) Antonia Baehr for the first time, as part of the 2018 Queer Performance Camp, where she will also give a professional workshop (details : bit.ly/2vmWghL).
Portraits of affinities in animal metaphors at La Chapelle
In Abecedarium Bestiarium Antonia Baehr has invited her friends to write short pieces for her, based on an ABC of extinct animals: D is for Dodo, T is for Tasmanian tiger, S is for Steller's sea cow... The authors choose an extinct animal that they feel strongly about. This brings about heterogenous choreographic miniatures in which they reflect their respective affinity to the chosen animal as well as their friendship to Antonia Baehr. Box-office (special fare 18$) : bit.ly/2IWsXHM.
«Antonia Baehr's Bestiarium is an Ursprungstheater of a language and an epistemic architecture yet to come: she offers her body as a stunning depository for the unconscious, the unconscious of others and herself that resurfaces as public performance, courageously undoing the bloody order of things, with humor, desire, freaky and curious stuff taking the lead, letting the imagination go free.»
 from A. S. Bruckstein Çoruh, "Hall of Mirrors: Seventy Veils of Separation", in: "Abecedarium Bestiarium - Portraits of affinities in animal metaphors", 2013
Overall concept, production and performance : Antonia Baehr. With compositions by: Frédéric Bigot (electronicat), Pauline Boudry, Valérie Castan, Lucile Desamory, Vinciane Despret, Sabine Ercklentz, Dodo Heidenreich, Christian Kesten, Keren Ida Nathan (Ida Wilde), Andrea Neumann, Stefan Pente, Isabell Spengler, Steffi Weismann,William Wheeler. Artistic collaboration: Valérie Castan. Lighting design: Sylvie Garot. Lighting direction: Luc Jenny. Sound design: Carola Caggiano. Costumes: Patty Eggerickx, Steffi Weismann, Pauline Boudry & Renate Lorenz, Werner Hirsch. Production: Alexandra Wellensiek. Production assistance : Sarah Blumenfeld, Barbara Greiner. Translation: Guillaume Cailleau, Sabine Macher, William Wheeler. Video : Angela Anderson. Presented by La Chapelle Scènes Contemporaines in collaboration with Goethe-Institut.
Advertisement
Age Group: All Ages

Venue:
LA CHAPELLE, Scènes contemporaines
Address:
3700 SAINT-DOMINIQUE Montréal, Québec
Get Directions
Phone: 514 843-7738